Get to know some of our members, present and past, in more detail.

Read about their stories and why they have joined the
Barbarians Masters Swim Team.
I began my Aquatic career in Wodonga Victoria in 1978 as a swim school teacher with the St Mary's Catholic School. Since then I have travelled to many States of our beautiful country of Australia. Advancing my knowledge into the field of Swim Coaching. Assistant coach for the Nightcliff swim club and the RAAF swim club in Darwin NT. Eventually moving to Melbourne where I both taught and coached swimming over several years. Moving a few more times interstate. In 2003 my husband and I moved from Perth Western Australia to Sydney in New South Wales with his work. Then in June 2004, we moved to Canberra. I became an assistant coach to the AUSSI Masters on the weeknights and Head Coach of the AUSSI Adult swim team on a Thursday morning. Eventually, I resigned from coaching duties and was employed by CES Computers as a Receptionist. There I remained until October 2005 when I resigned to prepare for our next move which was back to the beautiful State of NSW. We were living in a fantastic area called North Richmond, where the birds sang, the children played and the cattle roamed in nearby fields. I continued on with private coaching and worked as a Lifeguard at the RAAF pool in Richmond until October 2010. Due to yet 'another' move with Simons work, we were living in East Maitland NSW. I became a member of the Maitland AUSSI Masters plus remained as a second claim member of the simply fabulous Penrith AUSSI Masters Swim club. Oct 2013 once again due to my husband's work we relocated to QLD in November. There I became a member of the Barbarians Virtual Club QBR. The Barbarians is a club run by the MSQ State organisation. It was created to cater for swimmers who live in remote areas too far from existing clubs, prefer not to join a club, prefer to train with swimmers, who don't belong to a club, but who enjoy training together, are unable to find enough swimmers to form a club, but live too far from an existing club. I am looking forward to meeting new people, new sites and many wonderful adventures. This I certainly did until we moved once again. I will forever remember the wonderful folk I met in QLD and hope to return one day.

2018: Yes, January 2018 and we have moved again with Simons work. This time we moved back to NSW and lived in a lovely suburb called Raymond Terrace. I have now joined the Maitland Merlot's Masters club. My second claim club remained as the QBR Barbarian Club. Unfortunately, due to the distance from home to the nearest training pool, my swimming lapsed as did my fitness.

2019: October, we headed back to QLD for retirement and to be involved once again with the QBR Barbarians Masters Swim Team. I am very proud to be back and once again be involved with such a great team and to continue on as the QBR WebMaster.

Below are some of my achievements in this wonderful world of swimming and I encourage one and all to get in and 'HAVE A GO'......

A Passion to Coach: I began my swim teaching in 1978 in Wodonga Victoria. Assisting with the school swimming. Becoming a National Accredited Swim Coach in 1996 in Darwin NT and a Level 1 (Bronze) Masters Swim Coach in 1999 in Victoria. During this time, successfully completing the Physiology of High-Performance Swimming course. I have coached in QLD, WA, VIC, NT, NSW and the ACT. 1996 - 1997 appointed Assistant Coach for both the Nightcliff and RAAF Amateur to swim clubs in Darwin, NT. During our stay in Victoria, I began an Adult Swim Club starting with four swimmers. They decided on a team name of The Hampshire Warriors Adult Swim Team. When we departed some 2 years later, we had a membership of 35. Those were some of the best years in my coaching career.

Most Memorable moment in my swimming career: 1996 winning bronze (3rd) and 1997 winning gold (1st) in the USMS Championships 10km Postal Swim in Darwin NT. The camaraderie in both the training and during the actual swim was second to none. I accepted a challenge and thought, I'll have a go! I strongly recommend this swim for one and all.

My Records: Inaugural 200m Butterfly, 200m Breaststroke and 200m Individual Medley at the Ballarat Masters Games in 1998. 400m & 800m Butterfly, 1500m Freestyle ACT 2004. 1500m Butterfly ACT 2005. Record 200m Butterfly Mildura Masters Games 2005.

Family: Husband Simon, Son Kalgan and Daughters Mandy and Penny with Baby Buddy.

Favourite Sport: Swimming – Strength & Fitness Training – Watching the Summer & Winter Olympics.

Favourite Drink: Cappuccino from Arizona Café and Café 63, Oh YUM!

Favourite Movie: GHOST

Favourite Books: Anything and everything to do with Swim Coaching / Teaching / Autobiographies / Lawrie Laurence 'Stuff the Silver we're GOING FOR GOLD!' / Geoff Huegill 'Be Your Best', Michael Phelps amazing book & Don Talbot's. Favourite Music: Adele / Damien Leith / K.D. Lang / Shania Twain / Susan Boyle / Anthony Caleo / John Farnham / Mark Vincent, Marcia Hines and Celine Dion, Willie Nelson. To name but a few…


In the short and long term in Masters Swimming Australia: In the short term, my goal is to regain my fitness level. To encourage all members of our club, old and new, to enjoy their swimming to the best of their ability. To support one another whether it be in the pool or out of the pool. To pass onto others the love of this wonderful sport that I have. I hope to be an excellent ambassador for Masters Swimming. By encouraging all whom I cross paths with, to join us in Fun – Fitness & Friendship.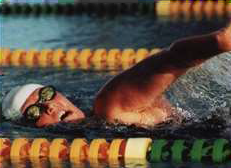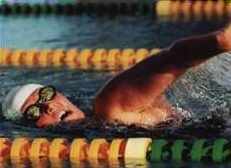 Photo: 1997 USMS Championships 10km Postal Swim in Darwin NT. Dawn
At present, I share my time between Townsville in North Queensland and Mali in West Africa. For eight months of the year, I am in an isolated part of this country in West Africa. Mali is landlocked so swimming is a fascination and a fear for 99% of the population. Townsville is not a stranger to the swimming world with I think three Masters Clubs in the city. Swimming was a fear for me, when young. But for me teaching was a passion, especially Physical Education, so swimming was not going to hold me back. Hence I entered the swimming world, joined surf clubs and learnt as much as possible about the teaching of swimming to make my personal swimming skills that little better.

Competition for me was secondary to teaching and coaching the sport. So I focused on teaching in the early years and was thrust into my first swim school situation in 1975 at the school Wondall Hts SS in Brisbane. The P.& C. approached me to start a swim school at their brand new pool, and away I started in my teaching career of swimming.

Over the years I have taught in many areas, but I still, remember getting the first instructors badge from the Royal Life Saving Society in 1976 and still have it. I have coached at many levels and think my years coaching Cherie Legge from the Gulf community of Normanton to State (Qld) honours in the Masters swimming World or coaching the first primary school swimmer to qualify for State competition, from the same region (Gulf ..Normanton) ranks as the best reasons why I coach.

What I want to continue to do, is selfishly indulge in the sheer enjoyment a child expresses when they finally have no fear of water, or they achieve the swimming action that has been so hard in the past. There is no better feeling for me to be involved in that process and share in that enjoyment. Too often we forget the "smallest things ' of our own life. With Jill Street, we wrote and had published a program on swimming, by the Qld Education Department (1977-78) but again that was another means to get to helping children and adults to conquer fears of water, survive in water and most importantly, enjoy the water.

So now I wish to take on the challenge of swimming to set several goals for myself, hence joining the Barbarians Masters Swim Team. I hope to be able to qualify for several meets in places a little closer to Africa as well as meeting a different sporting world of people in Queensland, and the rest of Australia.

Thank you sincerely for making me feel so welcomed. I am looking forward to being as active, as my lifestyle allows (at present) with the club.
I began swimming at the age of 8 years old. A few years later, I joined the Cabarita Swim Club. In 1973 I achieved my first NSW Swimming Association Credential. I became the chief referee for the NSW Masters Swimming (previously known as AUSSI Masters Swimming) for many years.

I was the delegate for NSW AUSSI Masters to the National Board and was on the board for quite some time. 1979 & 1989 I was one of the referees for the National swim in Sydney.

1979 – 1993 I refereed at most club carnivals in NSW.
1988 my late husband and I were referees at the World Masters Swimming Championships in Brisbane.
1989 Referee Australian Masters Games in Adelaide as well as competing.
1989 – 1993 I was a referee at the State Cup and State short-course championships.
1990 - 1992 Secretary to the National Technical Committee and director of technical development and referee for the national swim in Brisbane.
1991 Referee and competitor at the AUSSI Masters National Swim in Devonport Tasmania. Also in the same year also 3rd Australian Masters Games in Brisbane, referee and competitor.
1992 I was the chief referee for the National swim in Melbourne. I wrote the lectures and examinations for the AUSSI Masters Credentials and held the number 1 credential as referee. 1993 National Swim in Darwin, chief referee.
1994 Pan Pacific Masters Championship Hamilton NZ. Referee and competitor.
1995 I achieved FINA accredited Masters Referee.
1996 6th World Masters Championships Sheffield England. I entered as a competitor. I was asked by the Chief Referee to be the Chief recorder throughout the whole meet, so was unable to compete.
1997 Pan Pac's Masters Hawaii. Competitor.
2000 I ran the Olympic Torch in Matong in NSW on 16th August 2000.
2000 I worked at the Olympic Games as the liaison officer for the FINA Medical committee.
2000 Paralympics held in Sydney NSW. I worked on the deck as a technical official.
2002 World FINA Masters in Christchurch NZ.

I worked as a technical official on deck. I was a foundation member of AUSTSWIM and just received my 20 years' service award for teaching. I have been a swim coach for several years with ASCTA.

2006 I was a liaison officer for the England, Scotland and Wales competitors at the commonwealth games in Melbourne.
2007 12th FINA World Championships I was a liaison officer for the England, Scotland and Wales competitors at the commonwealth games in Melbourne. Masters swimming clubs I have belonged to over the years have been Ettalong, Warringah and Seaside Pirates in Sydney NSW and then moved to the Gold Coast in Queensland. Joining the Miami club and then the Barbarians when I moved out to Goondiwindi and I have been on the Barbarians Team ever since.

After 5 years of operations and disabilities, my goal now is to become fit, once again compete at Masters Swim meets and have FUN. I am looking forward to the Genesis Swim meet to be held on 30th July; 2016.
I was born in Toowoomba, QLD in 1956. I didn't swim much as a child as the pools were cold and I preferred land-based sports. I completed my Uni degree in Computing at the University of Central QLD and joined the Federal Public Service in Canberra in 1982. I developed an interest in swimming, when I met my future wife, Andrée. She was a very keen swimmer and encouraged me to improve my stroke, so I could maintain my fitness for other sporting events.

We were both playing competition squash and found swimming the best exercise to improve stamina, flexibility and aerobic capacity. I was playing A Grade squash and subbing at State level, so needed peak physical fitness. In the late 1980's, I also became interested in the new sport of Triathlon, funruns and open water swims. I used to jog, swim and ride my bike to work every day, so exercise was an integral part of my daily routine. In 1998, I was offered a contract to work in Fiji, so the family moved to a new tropical lifestyle and we continued with our competitive Squash, gym and swimming, often using the lush facilities at various resorts. By about 2004, the strenuous sports were starting to take their toll, with recurring aches, pains, wear and tear, so I had to give up the squash and gruelling endurance sports and decided to concentrate on swimming, stretches and light jogging. In 2006, I was offered IT contracts in the US and despite the different locations and environment, including Lehi, Utah and Tallahassee, Florida, continued with my regular swim training and incidental exercise. In 2008, we returned to Australia and had to deal with the unfortunate repercussions of the GFC, which had left us with severe financial losses. We quickly found employment on the Gold Coast, then I was offered a very good position with The Great Barrier Reef Marine Park Authority in Townsville.

We found that our regular swims helped us overcome the stressors and anxiety associated with unexpected financial hardship. I initially started with long freestyle laps, then increased my backstroke and gradually taught myself butterfly. All these strokes became easier with persistence, practice and determination. In 2014, I retired from the public service and moved back to the Gold Coast. We purchased a beautiful unit in Southport with a convenient 22m indoor pool and close to the wonderful Southport Aquatic Centre. We wanted to enter the Pan Pacific Masters Games in 2014, but couldn't afford the entry fees, so volunteered as an official instead. That experience inspired me to continue with my swimming and to enter the next Pan Pac's in 2016. I was so pleased to have the opportunity to enter 4 events, including the challenging 200m Butterfly, the 400m, 200m & 100m Backstroke. Whilst I didn't medal, I felt encouraged by my results and was amazed at the efforts and performances of many of the more senior swimmers. I have set my goal to train for the 200m & 400m butterfly, some freestyle and all the Backstroke events. I am known as a 'Code Monkey' and have managed to continue with my IT career and web programming despite many obstacles and find the swimming has definitely helped to refresh my brain and given me new ideas, perspectives and motivation.
I started swimming at about 12yrs old, only because I had mild childhood asthma. It was a way to help my lung capacity as I grew. By the time I was 13 it was pretty obvious I had some swimming potential and had to make a choice between swimming, rowing, rugby and water polo. In the end I chose to go with the swimming while dabbling a little in the water polo. When I was 14yrs old I broke the Australian Age and Australian All Comers 50m Freestyle record with a time of 25.14 sec.

At the Australian Age Championships, I had the following results:

1st 100m Freestyle
1st 100m Breaststroke
1st State Freestyle relay
1st State Medley relay
1st Club Medley relay
2nd 50m Freestyle
2nd Club Freestyle relay

From the age of 15yrs, I also competed in the Australian Open Championships (LC and SC) where I was regularly in the top 16 for 50 + 100m Freestyle and Breaststroke. In 1999 at the Australian Open championships I was again top 16 for 50m Freestyle, 100m Freestyle and 100m Breaststroke but was 4th in 50m Breaststroke in 29.51sec (missed 3rd by 0.03 sec). That year the time placed me at 22nd in the world for 50m Breaststroke! As a result of my times at the championships I was selected to compete for Australia at the
1999 World University Games in Palma Spain where I swam in the 100m Breaststroke and 4 x 100m Freestyle relay (Australia won) and 4 x 200m Freestyle relay. After that trip I had only a couple of competitions and decided that the 2000 Olympic team was unattainable so concentrated on finishing University where I graduated in 2004 with a Bachelor of Exercise Science and a Bachelor of Education (secondary). Since then I spent 7 years as a high school teacher 3yrs in the UK, the rest here in Qld, and more recently (the last 6 yrs) I have been working in the Pharmaceutical Industry as a medical representative working with Endocrinologists, Renal Physicians, General Physicians and now with Haematologists and Medical Oncologists. I have also this year graduated with my Master of Education where I completed a thesis on E-Learning in the Pharmaceutical Industry.

These days swimming is just a way to keep fit and have some social time with others who enjoy the sport. Some of the others I train with have been competing and finally talked me around to joining a club and getting back in to do a few races. You will only see me do short stuff – 50m and 100m and pretty much only Freestyle and Breaststroke, occasionally I might do a 100m IM if I feel inclined.
I started swimming at about 7yrs old, because my father saw they were offering swim lessons at the Palm Beach rock pool whilst we were on holidays. My dad thought if he could see the technique involved, he would teach the rest of 5 children and later, the youngest 2. My dad used to rouse us every morning at the crack of dawn to go to the local Canberra Olympic pool to do our laps. The live-in Manager, Mr Jack Barrett gave us coaching tips and we competed in various country and state championships. As the pool was unheated, the season went from October to March and we cycled and played sports in the off season. From my hazy memory, I think my best result was a 3rd in the State titles in 1963. Unfortunately, our swim training was brought to an abrupt halt on 2 February 1967, when my dad completed his usual 16 laps, rose from the water and collapsed. As there were no Defibrillators back then, all attempts to resuscitate him were futile. So, my mum was left without her beloved husband and 8 children to raise. She was in a state of shock and many friends and family offered support and assistance with the Loreto nuns at Kirribilli, offering Boarding school scholarships to myself and my younger sister Michelle. With such mayhem and disruption, it was the end to swim training and competitions. I completed my studies and decided to follow my mother's footsteps into Physiotherapy. Luckily, Sydney University was next to the magnificent Victoria Park 50m pool, so I rekindled my interest in swimming and used to swim every lunch time. Part of the Physio training included treating sports injuries and Hydrotherapy, so I became a firm advocate of the benefits of water exercise and hydrotherapy. I worked at Duntroon with the cadets and officers, and used to recommend water therapy as part of their rehab and recovery programmes. I found the love of my life and married in 1983. My husband, Kalvin was a keen Squash player, so we started competing in all local, state and national championships. We continued swimming to build up our aerobic capacity and stamina. We taught our children to swim and used to train as a family most days wherever there was a local pool. Back in the 1980's the sport of Triathlon was emerging and as we rode, swam and ran, we entered the first Australian triathlons. I remember riding my steel framed bike, with basket and baby seat. I came second in the first ACT Triathlon but there were only 2 females that dared enter what was considered such a gruelling event. There were no lycra outfits, alloy bikes or special footwear.

Kalvin was offered a work contract to Fiji, so from 1998-99, we swam in the Suva Olympic pool with the algae and lichen. Kalvin was offered contracts to the US, so we moved to Utah and then Tallahassee, still swimming most days. We moved to Townsville in 2006, and used to swim with the Master squads. In 2014, we decided to retire to the Gold Coast and decided to move to Southport as we knew they had a world-class aquatic facility. We bought a hi-rise unit in a complex with a 22m indoor and outdoor pools. The developer, Harry Triguboff, was a keen swimmer and makes it a stipulation that all his buildings should have training pools for their residents. In 2014, we wanted to compete in the Pan Pacific Masters Swimming, but with many financial commitments, we could not afford the entry fee, so we volunteered as officials. We loved the atmosphere, camaraderie and event. We were so inspired by the 80 and 90 year old's that were still swimming and competing, that we decided we would enter the next Pan Pac's. So, come Nov'16, we entered. I wanted to get my monies worth, so entered the maximum 8 events. The 50m Butterfly (Silver), 100m Butterfly (Gold), 200m Medley (Silver), 400m Medley (Silver), 200m Breast (Bronze), 400m Breast (Bronze), 200m Free (Silver). These results were better than I ever expected, especially as I had to remember how to dive off the blocks and how to race. It was such fun and great excitement, we decided to join The Barbarians, so we could compete in future events. This has given us a little more purpose and motivation. I suffer from epilepsy, so any achievements or success are sweeter than honey. I owe it all to the inspiration and support of others. My 90 year old mum still swims most days. She is a gem.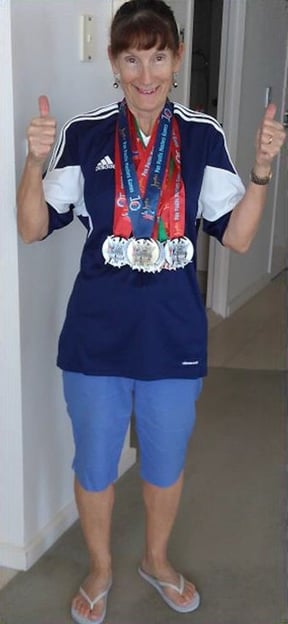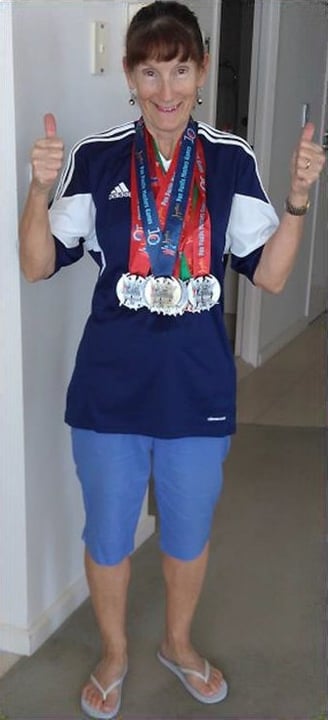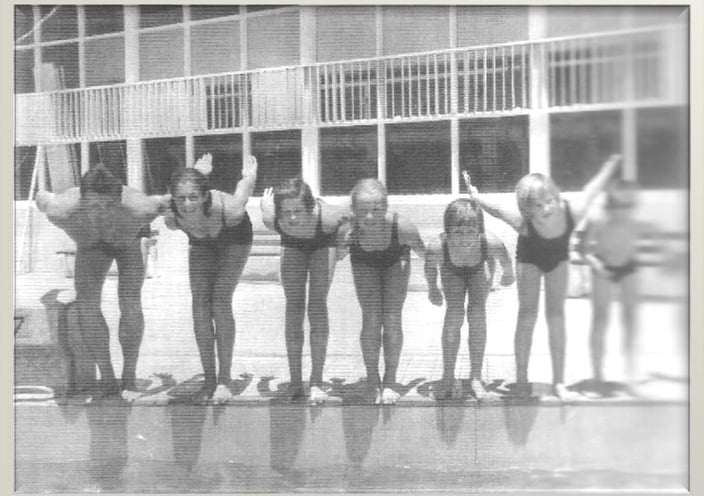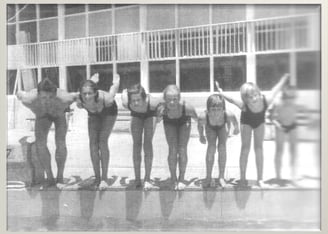 This picture appeared in the Canberra Times newspaper.

There were enough Gilroy swimmers to form their own race.

Picture published in The Canberra Times newspaper in January 1964.
I am 3rd from the left.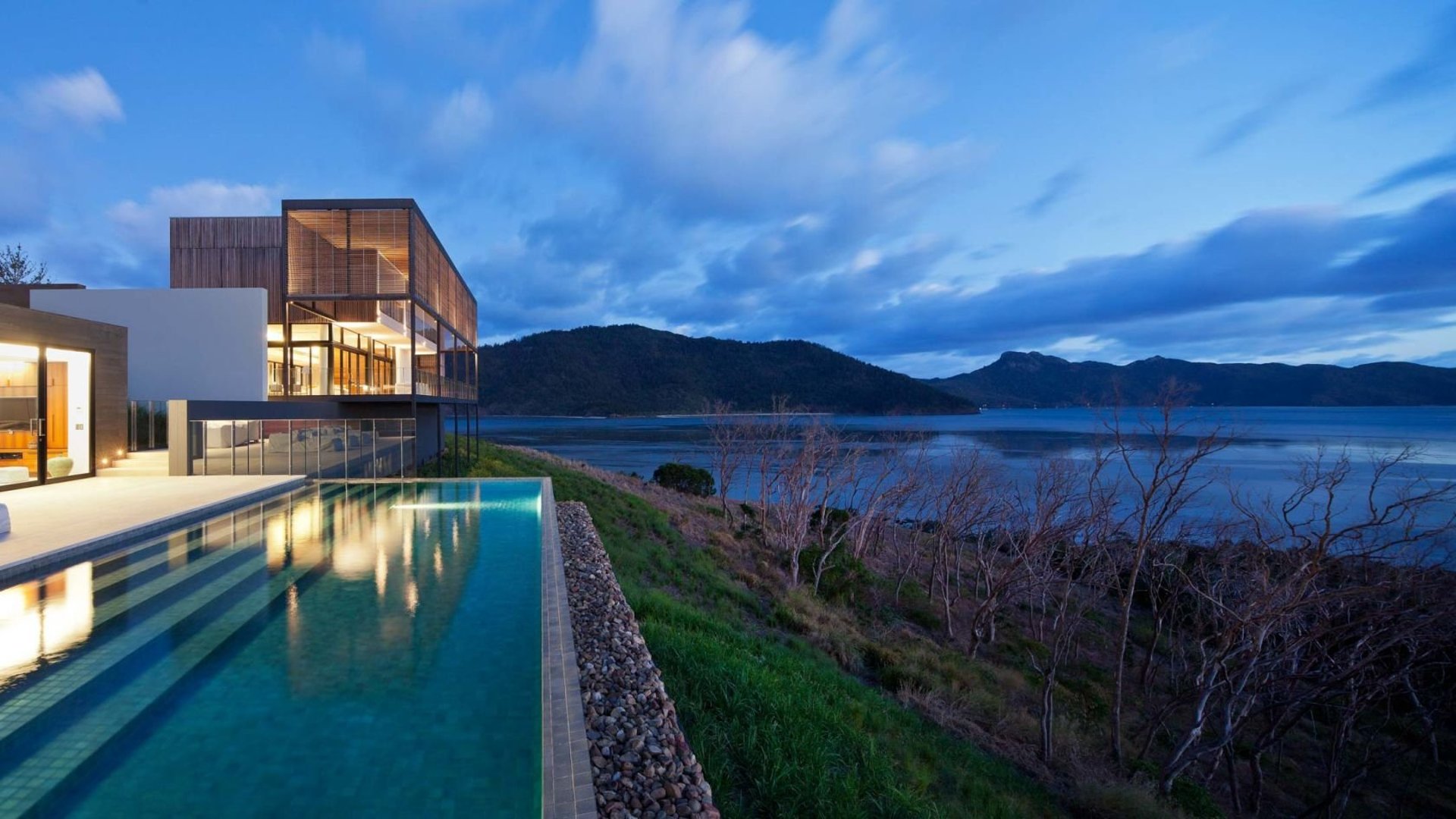 Are you a swimming addict?
You can join us to compete in Masters Meets.